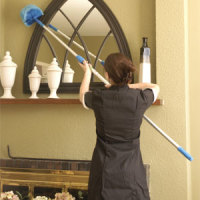 There's no shame in having a little extra help around the house every now and then. In fact, routine housekeeping services are a great way to maintain a clean environment while enjoying some much-needed downtime with your friends or family.
Wouldn't you rather go see a movie this weekend than mop the floors? We thought so. Call US Maid now to set up your house cleaning service from our professionals!
Most Reliable Housekeepers in Westchester County
US Maid provides one-time and routine housekeeping services to customers in Westchester County, including White Plains, Eastchester, New Rochelle, and beyond. We are available daily, weekly, biweekly, or at any other frequency that fits your needs, and our maid services can be scheduled at your convenience.
Some people only dream of being able to come home from a long day of work and enjoy a fully cleaned home. The house cleaners at US Maid can make that dream a reality.
If you've been falling behind on daily chores but have been hesitant to enlist the help of housekeepers, consider the following advantages to routine, professional house cleaning services:
Appearance—Coming home to a dusty, disheveled environment might be unpleasant for those who have to live there. However, for guests, it creates a downright bad impression. People notice things like unkempt bathrooms and dirty floors and appreciate when they are able to spend time in a cleaned, pleasant environment. You've put a lot of work into your home already—why hide all of your nice things behind a layer of gunk? Make your home shine the way it was meant to: let a housekeeper from US Maid work wonders.
Health—It's no secret that a clean environment promotes overall health. Letting your home go too long without a proper cleaning can result in the buildup of allergens like dust and pollen, and make your bathroom or kitchen a magnet for bacteria. Prevent the spread of disease with routine visits from our house cleaning services professionals. We even use eco-friendly cleaning products for the utmost safety!
Saved time—The biggest reason why people put off doing chores is that they'd rather be doing something else—anything else! Our cleaning service business is more than just our bread and butter—it is a passion. We are dedicated to providing nothing less than thorough, professional housekeeping service to each and every customer. We will never cut corners to speed up the process, and we will never use anything less than the most effective products and tools to ensure complete sanitation and stunning beauty. That means you can enjoy more free time and a house that's cleaned while you sit back and relax.
Property maintenance—Allowing a lapse in maid service can actually cause permanent staining and deterioration in the more sensitive areas of your home. Frequent visits from housekeeping professionals can actually help your floors, tiles, and other materials look better and last longer.
When it comes to choosing a housekeeper, don't waste your time with an amateur who is only performing maid service as a side gig. This arrangement usually results in partially cleaned rooms and workers who lack respect for your property and possessions. When you choose the dedicated house cleaners from US Maid, you'll receive the great service you deserve at rates that won't break the bank.
Our team knows that no two jobs are exactly alike, so we will tailor our housekeeping approach to fit your specific needs and desires. You won't find the same winning combination of quality and affordability from any other maid services provider in the area.
Contact us today via phone or email for a free estimate, and feel free to ask any other questions you may have about our house cleaning services.